0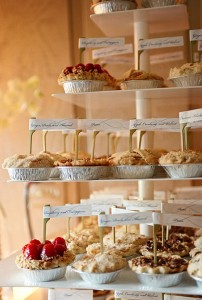 It's time to think outside of the cake box today!
As much as I love wedding cake (actually all cake), sometimes it's nice to color outside the lines and do something unexpected.
Like serving miniature pies instead of wedding cake.
Now that's a dessert trend I can get behind.
Everyone goes to wedding receptions prepared to eat a slice of cake but what if you wowed your guests instead with cute and delicious miniature pies? That would be an amazing reception!
And, you could even "personalize" the pies to the season – fruit pies in the spring, apple pies in the summer, pumpkin and pecan pies in the fall, and so on. Your guests will absolutely love these mini pies.
Of course it might be hard to share a "first bite of pie" with your new spouse, so you could always have a small wedding cake to slice just for the two of you!
We found this incredibly delicious idea here. The pies are from Wedding Cakes by Jim Smeal.
Read More:
nontraditional wedding cakes
,
pies
,
wedding pies