0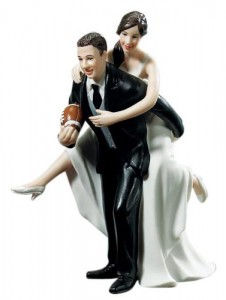 Hut…hut…HIKE!
Will your wedding reception feature a pick up game of touch football?  Not so much?  Do you wish it did?
Even if your über expensive gown and shoes (and makeup and hair and nails) don't lend themselves to grass stains and sweat, you can fantasize about playing football with your new life partner with this adorable Football Toting Couple Cake Topper from Weddingstar.
I mean…how fun is this, anyway?  I love this idea of the couple who plays together.  Because you can't play together without talking, and planning, and laughing.  And if you can figure out how to do that, you're WAY ahead of the game.
Love it?  Purchase it at Amazon.com.  Touchdown!

Read More:
Bride and Groom Cake Toppers
,
football cake toppers
,
porcelain cake toppers
,
sports cake toppers
,
sweet cake toppers