0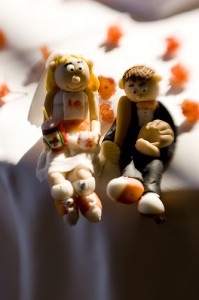 Never have I ever seen a cake topper feature a 7-11 Big Gulp. I am not here to judge…just to report the facts…and this cake does indeed feature a…Big Gulp.
Okay, Big Gulpiness aside it is adorable. This gumpaste cake topper features the happy bride and groom getting ready for a ball game. The bride is holding a baseball while the groom is ready with his bat and glove. This would be a great topper for a fun loving baseball couple.
What do you think? Can you get past the Big Gulp and appreciate it for its adorableness? Or are you wondering how this looked on the wedding cake?
Read More:
basball wedding cake toppers
,
big gulp
,
big gulp wedding cake toppers
,
Bride and Groom Cake Toppers
,
gumpaste wedding cake toppers
,
sports fans cake toppers
,
sports themed cake toppers