0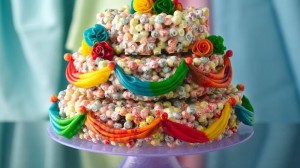 While we have featured unique and non-traditional wedding cakes here before, I don't think we've ever featured a wedding cake made out of cereal!
But when I saw this cake on Pinterest I knew it would eventually make its way to the blog. So today is your lucky day.
I give you the cereal wedding cake with Fruit Roll-Ups banners. You can thank me later.
Now, I'm not suggesting that this should be the wedding cake that you're going to serve to your guests…unless of course your guests are the kind of crowd that enjoys the combination of cereal and marshmallows.
But how fun would this cake be for the "younger" guests at your wedding – and I'm talking about the kids! The kids would feel so special knowing they had their very own wedding cake. The sugar high alone would be worth it.
This is a simple DIY cake and you can find the recipe here.
You'll need Trix cereal, marshmallows, and butter to make the "cake" and the banners are created from Fruit Roll-Ups.
This is such a fun cake! Would you ever consider serving a wedding cake made out of cereal?
Read More:
cereal wedding cake
,
fun wedding cakes
,
unique wedding cakes
,
wedding cake for kids
,
wedding cakes made of cereal