0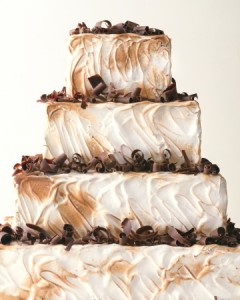 When it comes to ooey, gooey treats nothing beats s'mores.
The marriage of melted marshmallows, chocolate, and graham crackers is one of the best flavor combinations ever.
Now imagine those flavors in a wedding cake. Tell me that doesn't sound amazing.
And so, I give you the s'mores wedding cake.
This very modern twist on our favorite childhood treat is a four-tiered graham cake, with chocolate ganache and marshmallows. The Swiss meringue frosting is even "toasted" with the chef's torch.
I love the added chocolate curls – because you know, you can never have too much chocolate even in s'mores. They really add a bit of fun and whimsy to the cake, which is saying a lot since a cake that looks like a roasted marshmallow is rather whimsical by any standard.
This cake would be the perfect centerpiece for most weddings, formal or informal, indoor or out. Your guests will love revisiting their childhood while indulging in a grown up version of s'mores.
I found this super fun cake here.
Read More:
chocolate ganache
,
graham wedding cakes
,
marshmallows
,
s'mores
,
smores wedding cake
,
square wedding cakes