0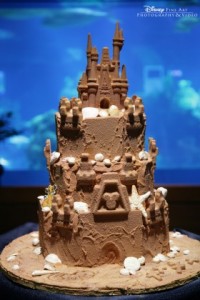 I'll be the first to admit that I am counting down the days to my Disney/Beach trip in May. I'm dreaming of fun warm Disney days followed by days relaxing on the beach. I want to wind in my hair, the sand between my toes and to lotion myself up with stuff that smells like tropical fruit. Too much information..maybe..
When I saw this cake feature on Disney's Fairytale Weddings and Honeymoon's Ever After Blog (say that three times fast) I almost died of sheer summer intoxication. I've been a Disney fan for years and I just when I think have seen it all Disney goes and pulls out all the stops on this Sandcastle Wedding Cake. In fact, it took me a good five minutes to decide that this in fact NOT a sandcastle but a real cake.
The first three tiers are a basic round cake with made to look the the base of a sandcastle. The top layer is none other than the most famous castle in the world..Cinderella Castle. Love..it! And of course they wouldn't be Disney if they didn't hide a few Hidden Mickey's in there. I see them..do you?
My only hope is that the bride and groom opted to cut this bad boy with a shovel and the cake was served in mini sand buckets.
Read More:
cinderella castle cakes
,
disney sand castle
,
disney wedding cakes
,
hidden mickeys
,
sand castle cake
,
sand castle wedding cake