2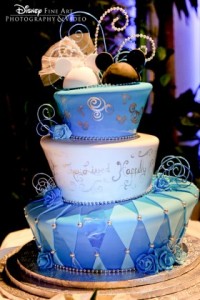 It's no secret.  I kind of live for Wedding Cake Wednesdays on Disney's Ever After blog.  Seriously, these cakes that the bakers at Disney come up with ALWAYS knock me on my…well…you know.
This particular cake was featured a few weeks ago and I've been keeping the page saved on my computer for a special day.  Lucky for you..today is that day!  Check out the adorable bride and groom wedding ears on top of this pretty hunk of cake!  Maybe this is a little more sentimental for me than others.  The hubbs and I honeymooned (and got engaged) at Walt Disney World.  While the honeymoon was far from relaxing (did you know the average Disney guest walks 6 miles a day?)  We were treated like king and queen everywhere we went.  We had decorations on our tables at dinner, we got moved to the front of the line for several rides, we were told "congratulations!" at least 50 times a day, and the best part were the free deserts that just seemed to fly at us from every direction in every restaurant we dined at.  However, the givers of the free desserts were not psychic…they noticed our bride and groom ears that I forced convinced my husband to wear.  So the bride and groom ears mean a little more to me than just the average Mickey-fanatic.
The cute toppers aren't the only thing about this cake that is wonderful.  I love the royal themed, lopsided caked with the blue diamond pattern on the bottom layer, and the silver Mickeys on the top layer.  Etched on the middle layer is "And they lived happily ever after…."  I love it.
Read More:
Asymmetrical Wedding Cakes
,
Blue Wedding Cakes
,
disney cake toppers
,
disney wedding cakes
,
disney wedding ears topper
,
happily ever after cake
,
lopsided cakes
,
mickey ear cake topper