0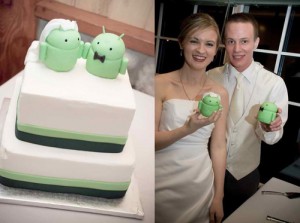 I've always thought that a wedding cake should show off a couple's personal style.
A classic monogrammed cake? You are traditional and classic.
A fun cute with lots of flowers? You are probably whimsy and impulsive.
Androids as your cake toppers? You are fun! And probably into computers and stuff.
That's what this couple did. The bride and the groom work in the technology field so they chose these adorable androids to top off their classic wedding cake. I just think they are SO cute. The bride is even wearing a little veil..and look..they are holding robot arms. Thank you very mucha Mr. Roboto…for making this cake because it's so cute!
This cake was baked by Michelle at Shells Cakes.
Read More:
android
,
android wedding cake
,
square cakes
,
square wedding cakes