0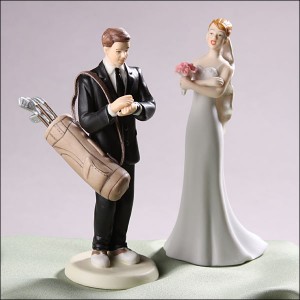 I love a cute wedding cake topper as much as the next girl and when one catches my eye, you can bet I'm going to share it with all of you!
If your groom-to-be is a golf fanatic and you want to surprise him with a nod to his hobby, this is the perfect cake topper for your wedding cake.
The groom figurine is dressed to the nines in his wedding day tux, but is carrying his golf bag, wearing his golf shoes, and checking his watch – hoping he has time to hit the links before the wedding.
The bride figurine is a separate purchase from the golfing groom, but clearly she's a must-have item! I love her stance – arms crossed, as if to say to her golf-loving husband-to-be "you better not be late!"
We found this adorable cake topper at the WeddingDepot.com. You can also find other sport-inspired cake toppers there including baseball, football, and fishing.
Read More:
Bride and Groom Cake Toppers
,
bride and groom wedding cake topper
,
bride cake toppers
,
gofling groom cake toppers
,
grooms cakes
,
porcelain wedding cake toppers
,
sports cake toppers
,
wedding cake toppers