0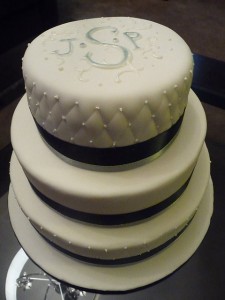 Like every good Southern girl I believe in three things:
Don't wear white after Labor Day
Don't go anywhere without your pearls
Monogram everything that you own
That must be why I fell in love with this gorgeous wedding cake.  Pearls and monogramming..it makes me want to stand up and clap.
This is a three tiered round cake covered in white fondant and adorned with small pearls and an awesome slate blue ribbon that adds a touch of sophisticated class.  The monogramming at the top matches the ribbon color and just takes this cake to another level.  It's almost too gorgeous to eat!
Now who else wishes they were invited to J & P's wedding?  I know I do.  I bet every woman there wore pearls!
Read More:
fondant
,
monogrammed wedding cakes
,
round wedding cakes
,
three tiered wedding cakes