0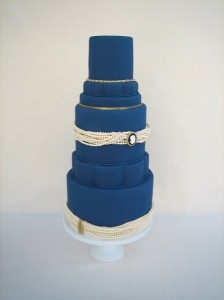 I'm a Pearl Girl, y'all.  And my favorite color?  That would be blue.  So, yes.  This is one fantastic cake.  Silver and blue and pearls, oh my.
Navy blue fondant.  Six tiers of varying height, with a couple of scalloped-edge layers thrown in.  And those pearls?  I believe those are handmade.  Can you even fathom how long those strands took to create?  What a classic and preppy cake.  Wouldn't it be so awesome to see the wedding that it went with?
This lovely showstopper was created by Catherine Joanne Cakes of Orange County, California.  And I can't imagine a single solitary thing that she could have done differently.
Read More:
cakes with different shaped layers
,
california wedding cakes
,
cameo wedding cakes
,
navy blue wedding cakes
,
navy wedding cakes
,
pearl wedding cakes
,
tall wedding cakes