0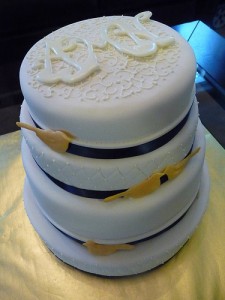 Here we go with those birds again.
Good thing I love them…right?
There is so much to talk about with this cake I am having trouble deciding where to begin…so let's just start with the facts. This is a four tier cake. The tiers have an alternating diamond pattern while the other layers are smooth and clean fondant. The top tier has an intricate swirl design and is topped with a gorgeous monogrammed cake topper. The photographer got this picture right…the most gorgeous part of this cake is from a birds eye view. Haha, birds AGAIN. The base of each tier has a navy blue ribbon with yellow love birds perched on them. The yellow, white and navy is another fresh color combination that I have seen pop up this spring. I may be saying this because I just bought a purse with this same color combination that just rocked my world.
So, what do you think? Do birds do it for you or are they becoming over done? Or, are you like me and you're terrified of those little suckers in real life but as long as they are fondant…they are amazing?
Read More:
bird wedding cakes
,
fondant wedding cakes
,
monogrammed cake toppers
,
monogrammed wedding cakes
,
navy and yellow wedding cakes
,
navy wedding cakes
,
round wedding cakes
,
yellow wedding cakes