0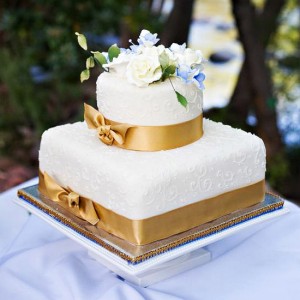 I've been showcasing quite a few showstopping (and rather large) wedding cakes lately, so today I wanted to go smaller.
Much smaller. Like a two-tier wedding cake for a small wedding.
I love this cake wrapped with gold ribbon. It's so pretty and elegant and if you're planning a small wedding, you still need to have a gorgeous cake.
This two-tier cake features a simple, clean design – the white icing features scrollwork which adds to the overall beauty of the cake.
The gold metallic ribbon is the perfect embellishment for this smaller wedding cake. It makes a statement without being "too much."
And with a smaller cake you don't want to overpower it with a big cake topper, which is why the fresh roses and hydrangeas work perfectly here. Of course, you could coordinate the ribbon and the flowers with your wedding colors, adding a personal touch to the cake.
You can find this elegant wedding cake here.
Read More:
flower cake topper
,
fresh flowers as cake toppers
,
Ribbon Trim
,
ribbon trimmed wedding cake
,
ribbon wedding cakes
,
small wedding cakes
,
two tier wedding cakes
,
wedding cakes with ribbon
,
white wedding cake