4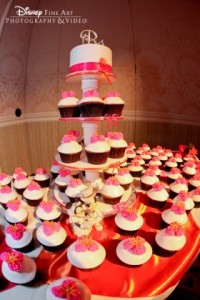 Do you ever see a picture and suddenly all is right with the world? This just happened to me.
There is something you should know about me interwebs…it only takes one of three things to make me happy: Cupcakes, Disney World & anything pink. Combine them all together? Well..let's just say after I found this picture my husband had to come and pick my jaw up off the floor and put it back together. In other words? Perfection!
Just look at this gorgeous presentation of Red Velvet Cupcakes at a recent Disney Wedding. The frosting looks almost perfect (I am assuming it's cream cheese…and you KNOW that there is some Disney Magic behind getting cream cheese icing to look that smooth!) and they are topped with the cutest pink and orange flowers. I have to admit most of the time pink and orange annoys me as much as people eating chips loudly, however, there is something about these flowers that I just adore and I think they look gorgeous together! Of course you can't have a Disney Wedding without having the main mouse & his leading lady make an appearance somewhere. I also love how these cupcakes are more of a light red (almost pink) color as apposed to the usual dark red of traditional red velvet cupcakes. I don't know about you…but sometimes really dark red velvet cake can scare me a bit!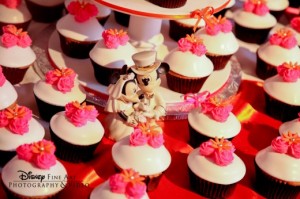 Read More:
cupcake wedding cakes
,
floral cupcakes
,
pink and orange cakes
,
red velvet cupcakes
,
red velvet wedding cakes