0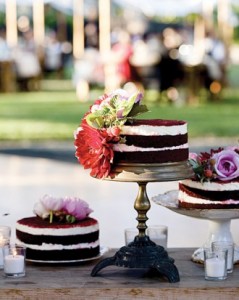 If I had to choose just one cake flavor to eat for the rest of my life – the horror! – it would be red velvet.
The first time I had red velvet cake I fell in love instantly. The combination of the not-too-sweet cake with the cream cheese icing is pure perfection.
But today we're talking about a naked red velvet wedding cake!
As soon as I saw this cake I had to feature it because we're getting closer to Valentine's Day and I think a red velvet wedding cake would be perfect for a February wedding.
Naked wedding cakes – you know, cakes sans frosting – are still all the rage. And while I prefer my cake to have extra frosting, I think a naked wedding cake done properly is pretty.
I love the look of this cake – the dark red cake is quite dramatic with the white icing visible in between the layers and on top. As much as I love frosting, I think this cake would be rather delicious.
You can find this cake here. It was created by Doughboys Los Angeles.
Read More:
february weddings
,
modern wedding cakes
,
naked wedding cakes
,
red velvet wedding cakes
,
red wedding cakes
,
valentines day wedding cakes