0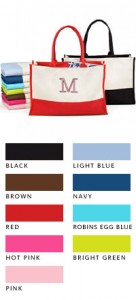 I have three loves..blogging, eating, and shopping.  Since I often combine my love of blogging and eating (hello, cake), today I decided to combine blogging with my other love:  shopping.
More specifically, I'm talking Bridesmaid and Groomsmen gift shopping.  I am sure I am not alone in this but I had the HARDEST time coming up with a bridesmaid gift.  I had eight bridesmaid ranging in ages 14-26.  Seriously, I was stumped.  Should I go with something different for everyone?  Should I find something generic that would suit them all?  And, most importantly, how could I buy eight nice gifts for the mostimportant ladies in my life without going into debt?  Because have you done that math?  Eight bridesmaids time a 20 dollar gift = 160 dollars.  Twenty dollars for a nice gift doesn't exactly promise you a high quality gift either. So, what did I do?  What any bride on a budget would do.  I hit the interwebs and searched for something classy and reasonable.  Eventually I ended up with a gorgeous monogrammed tote bag (I live in the South..monogramming is a way of life.)  All my bridesmaids loved them and my sister-in-law still uses hers even five years later.
I figured I can't be the only woman with the crisis..so I hit the interwebs…again.  I discovered that not only does TheKnot.com have an AWESOME selection of Bridesmaids and Groomsmen Gifts.  They also have a sale..through tomorrow! Woot Woot!  Up to sixty percent off tons and tons and TONS of gorgeous gifts.  Seriously, where was this when I got married??
Check out this gorgeous color block initialed tote bag..for $14.99.  Um, I may just need to buy one of those for myself.  I don't think there is any sort of law that it HAS to be for a bridesmaid right?  (I like the hot pink..what color do you like?)
With all the stress of my hunt for the perfect bridesmaid gift my husband took a much different approach.  He bought the men all flannel pajama pants.  You'd sort of have to know my husband to get that gift.  However, let's just say that at that time (fresh out of college) flannel pajama pants were his outfit of choice.  I tried to convince him to buy his guys nice leather flasks like these, however, at the time those things cost about $30 bucks a pop!  $9.99 at TheKnot.com is a steal.
Read More:
bridesmaid gifts
,
engraved flasks
,
groomsmen flasks
,
groomsmen gifts
,
initial flasks
,
initialed tote bags
,
monogrammed tote pags
,
theknot.com
,
theknot.com sale