0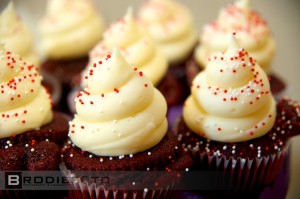 After eight seasons of stabbings, shootings, adopted/foster children, violent attacks, numerous boyfriends and a failed multi-million dollar company Brooke Davis finally got married tonight.  Are you confused?
Brooke Davis (a.k.a Sophia Bush) from One Tree Hill on The CW.  Am I the only person left in America who still cares?  Maybe..however, judge me if you must because it has been years in the making.  I've spent the past six years of my life tuned in once a week to watch the drama unfold (not to mention numerous hours spent re-watching old episodes on SOAPNet).  And it went through as The CW promised..without any major disasters such as flash floods, stolen limousines that get driven off of bridges or crazy ex-nanny's who come back to steal the ring bearer.
It's been a long road.
You can see all the photos from their wedding episode here.
In honor of Brooke and Julian I've decided to feature one of my favorite things.. cupcakes!  In fact..red velvet cupcakes that look oh so scrumptious!  (Yes, I did search for a picture of their cake which was a combo of cupcakes and a three tiered cake..only the best for Brooke Davis..but I couldn't find it).  These cupcakes are topped with a thick cream cheese swirl and a sweet little dose of red, pink and white sprinkles.  Yum, yum, oh..and yum.  I also think these cupcakes would be great for a Valentine's Day party.
These cupcakes were made by Cupcake in Columbia, SC.  I've been there myself and I bit into the Strawberry Cupcake and had an out of body experience.  True story.
This is another awesome photo from Matt Brodie of Brodiefoto.
Read More:
brodiefoto
,
cupcake charleston sc
,
cupcake columbia sc
,
julian and brookes wedding
,
one tree hill
,
one tree hill wedding
,
red velvet cupcakes
,
sophia bush