0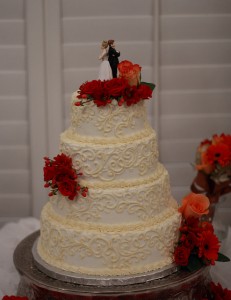 Beautiful white on white – one of my favorite decorating techniques – and pops of autumnal color.  And on top of it all stands a traditional-looking bride and groom – standing cross-armed, not speaking.
Methinks this does not bode well for the marriage.
What did they disagree about?  Did she want a ski honeymoon, and he wanted to snorkel off of Baja?  Did he want his gal pal as best man?  Did she insist on writing their vows, and he didn't want to mess with it?  Or was it something even more important – she wanted vanilla and he wanted chocolate…
Well, we'll probably never know.  But we hope that they worked it out with the same tongue in cheek sense of humor that led them to cast this cute cake topper in a starring role.
And let's say it all together:  Weddings last for a day.  Marriages (are supposed to) last for a lifetime.
Read More:
autumn flowers
,
bride and groom not speaking
,
scrollwork
,
shell trim
,
unusual wedding cake toppers
,
white on white cakes