0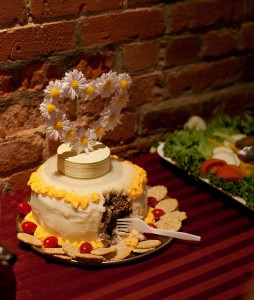 This, Gentle Readers, is not a cake that looks like a meat loaf.  This is, in fact, a cake made of meat loaf.
As the story goes, groom Todd was asked what flavor cake he wanted for "his" cake.  His sarcastic answer?  "MEAT!"
Well, someone took Todd very seriously, and this delightful (and reportedly delicious) meatloaf cake was born.
So, I wasn't at said wedding.  But I can make a fair guess here about the components.
Inside:  Meat.
Outside:  Mashed Potatoes.
Piping:  Cheez Whiz (or similar.)
What are my thoughts?  Well, I may be a foodie and quite the little gourmet…but I am also a lover of my MaMa's meatloaf.  It still ranks among my favorite foods.
So Todd's tongue-in-cheek Meatloaf Groom's Cake?  Two thumbs up.
(I love when the boys actually choose their groom's cakes.  Here's another couple For the Guys entries that have guy-chosen written all over them: this Klondike Bar "Groom's Cake" and this Groom's "Cake" Picnic Feast.)
Read More:
cheez whiz
,
mashed potatoes
,
meat grooms cakes
,
meat wedding cakes
,
meatloaf grooms cakes
,
meatloaf wedding cakes
,
savory grooms cakes