0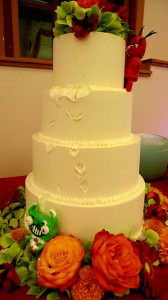 I am seriously a know-nothing when it comes to pop culture, y'all.  I'm the last to (reluctantly) start playing the coolest new game or obtain the hottest new gadget.  So I'm totally sure that the little guys on this cake have enormous meaning…but I have no idea what it is.  Do you?
Anyway, I think this cake is brilliant.  Look closely, and you'll see two little twirps among the flowers, wreaking havoc.  Rather than sticking these characters on top, and posing them in some "unnatural" way, couple and baker have a terrific sense of humor, and allow them to stay in character…thus terrorizing the cake.  The pristine buttercream is marred by green smudges where Green Guy presumably stumbled down the side after taking a big swipe of icing with him.  Red Guy is heading for the top, we assume, to do more damage.  Another thing I love – the colors of the flowers!  They perfectly match the couple of troublemakers.  This cake is well planned and well executed, to which I say, well done.
And by the way, if you can tell me what game these guys belong to, please leave a comment below!
Read More:
fun wedding cakes
,
Green Wedding Cakes
,
humorous wedding cakes
,
red wedding cakes
,
video game wedding cakes
,
white wedding cakes