0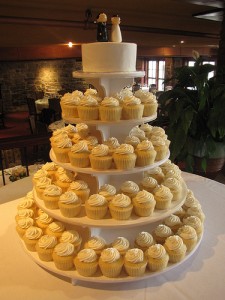 I think by now you all know that I can pretty much leave the over extravagance of some wedding cakes. I would much rather have a cake that taste good than a cake that is a fondant masterpiece. And please..give me a cupcake over..well pretty much ANYTHING any day of the week & I will be a happy happy girl!
Perhaps that is why I love this Wedding Cupcake Tower so much.
This cupcake creation is made by Montreal's Clever Cupcakes and consist of five dozen lemon cupcakes topped with lemon buttercream and edible pearls..oh..pearls..This makes the southern sorority girl in my sequel with glee!
The "cutting cake" is a chocolate cake filled with ganache and topped with fondant. Oh ganche..I love you. Everything I have told you is all well and good..but not what makes this cake one of my favorites. It's the topper that sets this cake apart. This cake is topped with custom made gumpaste cake toppers that represent a bride and groom. They are just adorable..and I can't decide if I'd want to gobble them up or put them in my pocket and take them out to cheer me up when I feel sad.
Read More:
cupcake tower
,
cupcake wedding cakes
,
gumpaste cake toppers
,
lemon cupcakes
,
montreal wedding cakes
,
montreal's clever cupakes