0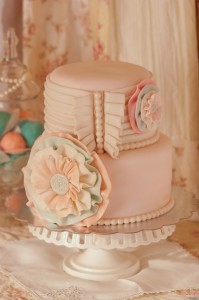 This cake makes me think of the Roaring 20's.  I am not sure why…but to me it just seems like it should be saying, "Hello friends, welcome to my boudoir.  Do you see me?  I'm covered in pearls and pink".  Of course cakes don't talk…but…if they could I bet that's what this one would say.
This cake was made by Mary from the blog Apron of Grace.  We've featured her on here before with her Rose Cake a few months ago.  One of my favorite things about Mary is she tries to use all natural ingredients in her food as much as possible.  Let's face it, sometimes you just need something processed.  I love this cake not only because it speaks to me in a 1920s accent…but it is the flowers that set me over the top.  Mary used a fabric flower tutorial as a guide to make the gumpaste & fondant flowers.  I have got to try these!  The fabric kind…not the gumpaste.  That would be a disaster.  The cake is strawberry with a chocolate ganache and rum filling with strawberry buttercream frosting.  If I could insert a sound effect of breaks screeching really loudly, I would do so here.  Seriously, buttercream frosting?  That frosting is so smooth I swore it was fondant.
Visit Apron of Grace and be inspired!
Read More:
chocolate ganache and rum filling
,
chocolate wedding cakes
,
fondant and gumpaste flowers
,
how to make fondant flowers
,
how to make gumpaste flowers
,
peach wedding cakes
,
Pink wedding cakes
,
strawberry buttercream
,
strawberry wedding cakes