0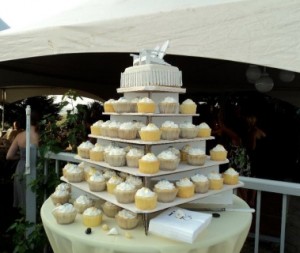 I am in love. I am in love with a group of cupcakes.
Y'all know that I'm a beachy kinda girl, n'est pas?  I mean, give me two spare hours and see if you'll catch me ANYWHERE else.  I will be under the umbrella, swimsuit on, iPod tuned to something mellow, watching the tide ebb and flow.
So it should come as no surprise that I instantly fell in love with this aDORable cupcake tower from Jennifer Rao at Around the World in 80 Cakes.  I mean, look at it.  It's beachy perfection!  The cupcakes flavors – are you ready? – pina colada and key lime pie.  Of course they are!  They are each baked in grey and yellow papers to match the wedding colors, and every little gem of a cake is topped with either a sea shell or a starfish.  But wait – there's more!  The cutting cake, perched above all those lovely little cakes, is covered with fondant, topped brown sugar to approximate sand, and is surrounded by the most darling little rustic picket fence.  And perched on the sandy sugar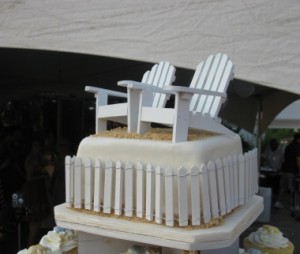 shore:  little matching white Adirondack chairs.  Now, I can really think of nothing so beautiful as our bride and groom, hand in hand, watching the waves (and possibly a sunset, depending on which Florida coast they're on), while contemplating their future.  Together.
Sigh.
Gosh, I'd like to have one of those key lime cupcakes right about now…
Read More:
adirondack wedding cakes
,
beach wedding cakes
,
sea inspired wedding cakes
,
seashell cupcakes
,
seashell wedding cakes
,
white wedding cakes