0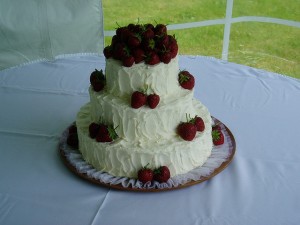 Did we mention that we may just live in a state where strawberries are in season while the rest of the country is still shivering?  (Please, don't hate us.)
But, that would explain to you why I see this cake, and think, "Oh, how perfect for March!" While you see it, and say, "Well, now she's just torturing us."
So, let's call it inspiration for all you brides planning a wedding in the next few months.
This cake makes me think…fresh.  It's pretty, simple, even a bit rustic.  There is zero doubt in my mind that it was absolutely delicious.  And I don't know about you…but delicious comes above all.  I hope they had an outdoor ceremony.  I hope they square danced under the setting spring sun, and I hope there was a wagon and a little straw, and maybe some lemonade involved at some point during the festivities.
Hats off to the pastry chef – or meticulous home baker –  for finding the most luscious, perfectly ripe strawberries ever.  The picture leaves me wondering if this bride and groom consulted the Farmer's Almanac and planned their nuptials for the peak of strawberry season.
In short, any picture of any cake that sends me out, looking for strawberries to messily eat while the juices run down my arms…any cake that entices me to go ahead, take a swipe of icing off the back!  No one will notice!  Well, that's a good cake right there.
Read More:
buttercream
,
fruit wedding cake
,
informal wedding cake
,
outdoor wedding
,
Rustic Wedding Cakes
,
strawberries and cream
,
strawberry wedding cake