Rustic Wedding Cakes
Do you prefer blue jeans to chiffon, and open air to a fancy ballroom? Then a rustic wedding cake may be a good fit for your special day. If you favor a more natural or casual feel, then this type of cake may suit the mood and tone of your party more than something over the top or fancy.
Rustic can imply many things. It may refer to a type of flower or trim that isn't normally used for something as refined as a wedding cake. Sunflowers, daisies, herbs such as lavender, or wild field flowers are good examples of flora that might trim a rustic cake. A bride or baker might use strips of raffia to trim the layers, rather than shiny satin ribbon. Or rolled chocolate cigarettes and other chocolate decorations, fashioned to resemble natural materials such as leaves, feathers, or twigs, can be very evocative of the natural and rustic. Sometimes, rustic can refer to the finish of the cake. Either a baker may choose to make a very simple background, using a single, natural color of fondant, or he or she may instead choose to use buttercream, and to give the finish a swirly, home-style look that is very pleasing and comforting. To be sure, a rustic cake will most likely utilize earth tones and natural materials, and would normally skip some of the stylish touches that are so popular today. The tendency toward rhinestones would not be appropriate; however, the trendy use of birds and owls would provide the perfect finish to such a cake.
So if you and your groom favor a more relaxed style, or if your nuptials will take place in a country setting – a field, a barn, near the shore, or under the wide open sky – you may consider dressing your cake down for the occasion as well, and going rustic.
0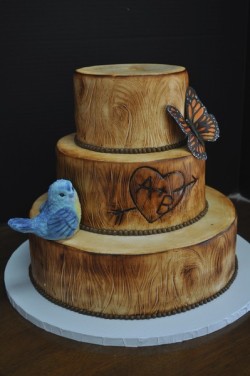 With fall right around the corner it's time to start thinking about fall-themed wedding cakes.
Today's featured cake is all about rustic themes and fall-inspired looks! The very rustic cake looks just like a weathered tree stump and it's perfect for your fall wedding!
The cake it stunning in its realistic design and even features a "carving" of the happy couple's initials. Read More
0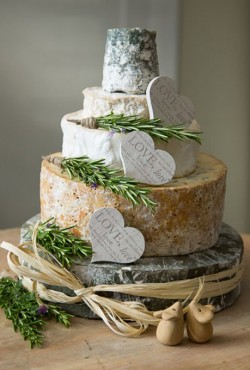 Confession time – I love cheese. If given the chance I'd probably eat cheese at every meal of the day and twice on Sunday.
Cheese is awesome.
And if you love cheese just as much I think you're gonna love today's featured wedding cake because it is four tiers of CHEESE. Read More
0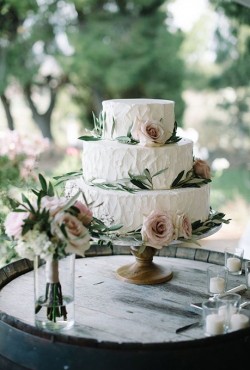 As we get out of the Christmas holiday season and head toward the next major holiday – Valentine's Day – let's talk about wedding cakes that ooze romance.
Like today's cake.
This three-tiered cake is delicate and pretty and romantic, thanks to the color palette and the addition of some gorgeous roses. Read More
0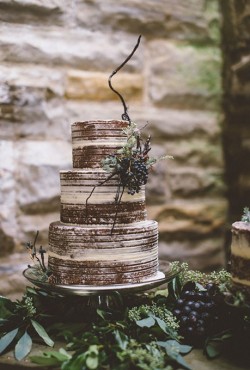 The temperature outside might be chilly, but that doesn't mean your cake needs to be covered in icing!
Today's featured cake is the perfect winter wedding cake in all its dark and dramatic glory!
I love the idea of chocolate wedding cakes – and even though I love chocolate icing, this rustic cake with minimal icing is lovely. Read More
0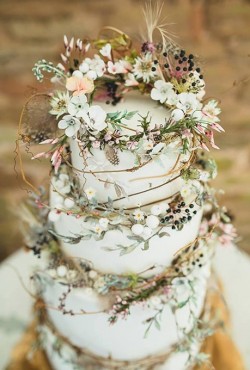 I've always loved the idea of a fairy tale, woodland-themed wedding.
And today's featured wedding cake would be ideal for just that type of reception. The cake is romantic and elegant and just what you'd want for a rustic wedding.
This rustic cake features three tiers of lovely white frosted cake surrounded by woodland vines straight out of a fairy tale. Read More
0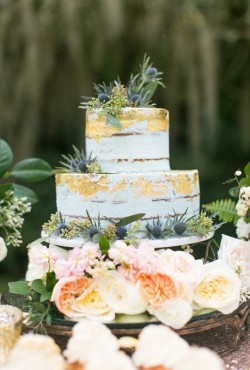 Two of my favorite colors on a wedding cake are white and gold.
There's just something about the color combination that is elegant and traditional.
Plus you can't go wrong using gold at the holidays.
Today's cake is rustic with a touch of elegance thanks to the addition of gold flakes on each tier.
The cake looks like a million bucks, but we're sure it doesn't cost that much. Read More
0
One of my absolute favorite flavors regardless of the season is caramel.
Whether we're talking about candy or coffee or just pure caramel sauce, I can't live without out.
So imagine my excitement when I found this rustic fall wedding cake with caramel sauce! Look at this cake – it is a work of art! Read More
0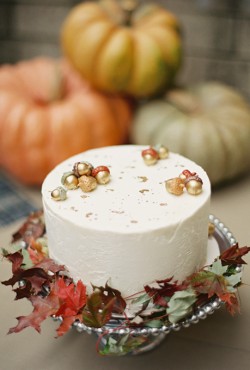 We raked a lot of leaves over the weekend around here. The trees are just past peak color and the leaves are raining down in our yards.
Another thing raining down – acorns!
Which brings us to today's fall-inspired wedding cake featuring colorful fall leaves and acorns.
This one-tier cake practically screams fall … in an elegant and refined manner of course. Read More
0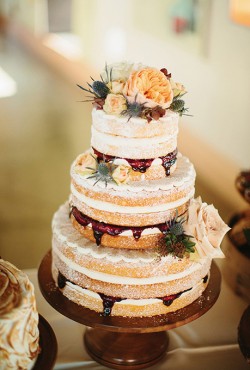 Fall is definitely here and that means it is a perfect time to check out some rustic wedding cakes!
I love the idea of a cake that represents the season of your nuptials and rustic seems to go hand-in-hand with everything fall!
Today's cake happens to be a naked wedding cake – a trend I'm starting to love more and more – and it has a special touch thanks to some jam filling. Read More
0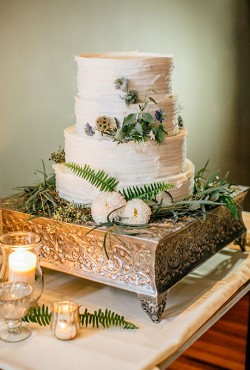 I love this time of year – the leaves are changing colors, the nights are cooler, and everything is about fall!
So if you're getting married during this season, why not choose a wedding cake the plays on the themes of the season without being too over-the-top?
Today's featured cake is one of those perfectly fall cakes. Read More