0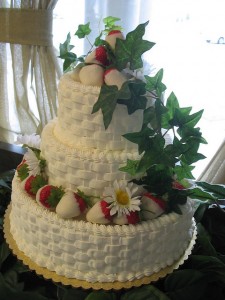 I'm in a contrary state of mind.
We are about to launch into the week before Christmas, and so, of course, Christen and I both have some delighful, sugar-plummy cakes planned for you.  So what better way to cleanse your brain palate than to offer you something completely off the wall today?
Yes.  It's July in December.
I mean, we do the opposite all the time, right?  Christmas in July and all that?  Well, here's a look at the summeriest thing I could find:  basketweave and strawberries, trimmed with ivy, with one daisy just for good measure!  This cake squeals "summer outdoor wedding!" to me.  Perfectly executed, kinda retro basketweave, and the ivy is a lovely touch. (Just be sure to use silk ivy if the look appeals to you.  Since ivy is, you know, poisonous.)
What do you think?  Would it be fun to go against the grain and set convention on its ear at your wedding, by offering something totally opposite of the current season?  Are you that kind of girl?
Read More:
basketweave wedding cakes
,
buttercream wedding cakes
,
chocolate dipped strawberries
,
daisy wedding cakes
,
ivy wedding cakes
,
retro wedding cakes
,
strawberry wedding cakes
,
summer wedding cakes
,
white wedding cakes