0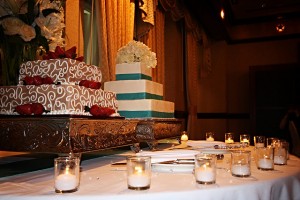 Are you a soon- to-be-bride?  Will your soon-to-be-groom have a groom's cake – and, if so, will it share the cake spotlight?
Let me explain.
We here at aWCB see lots and LOTS of groom's cakes, and they come in every shape and size – from "crab cakes" (one of my absolute favorites EVAH), to bottles of beer, to muscle cars, to fishin' boats, to (gasp) football helmets, to laz-y-boy recliners. (Okay.  We haven't seen that last one.  But we bet we will at some point.)
But would you, oh Demure and Proper Bride, allow any of those cakes on your hallowed cake table?  Yeah…me neither.
However…here's a cake almost as regal as its bridal counterpart.  We love that it's chocolate (I'm a traditional girl, and favor chocolate or fruit cake for the boys), and the strawberries are luscious-looking.  The squiggle patern is a little more whimsical and spaced apart than we normally see, and it suits the cake and mimics the sterling cake stand.
And it stands, side-by-side, with its lovely wedding cake mate, which is swathed in ribbons, flowers, and cool, smooth buttercream.  It's a match made in culinary heaven.
I've never seen cakes displayed like this, side by side.  But I bet the guests who like a little variety in their wedding desserts were appreciative not to face two cake lines.
Read More:
chocolate grooms cake
,
grooms cakes
,
Silver Cake stands
,
strawberries
,
wedding and grooms cake equal billing