0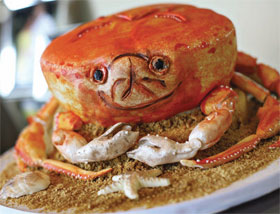 Dreary, dreary, dreary. As we cross over that period of winter when we think we're never going to have warm weather again, and into the hope that surely, spring is just around the corner, we at AWCB can't think of anything that cheers us up better or faster than a towering confection of sugary love and happiness. Here's what's going on around the world of wedding cakes this week. But first, the wedding cake news.
According to this article in the Kalamazoo Gazette, many modern couples are going for smaller, simpler cakes.  A product of the uber-hip, less-is-more trend?  Perhaps.
Is the upcoming royal wedding an blessing or a curse to U.K. bakers?  British Baker Magazine  weighs in on the impact of closing the bakeshop for Will and Kate's special day.
And some fun things we found around the wedding space this week:
Here's a lovely article in Wrightsville Beach Magazine about the history of the wedding cake.
The Hilton Head Monthly sums it up nicely:  if the wedding cake is Sunday morning, then the groom's cake is Saturday night.  Anything goes.  (I love, LOVE the Crab Cake by Sheri's Edible Designs of Hilton Head, SC!) 
Wed The Magazine named Dana Herbert of Desserts by Dana in Bear, Delaware, as the winner of the Great Cake-off.  Congratulations, Dana!
Have a delicious week!
Read More:
British Baker Magazine
,
British Bakers
,
Dana Herbert
,
Desserts by Dana
,
Disney Weddings
,
grooms cakes
,
Hilton Head Monthly
,
Kalamazoo Gazetter
,
Kate and William
,
Sheri's Edible Designs
,
smaller simpler cakes
,
Splash Mountain
,
The Great Cake-off
,
Wed the magazine
,
Wrightsville Beach magazine