Silver Cake stands
0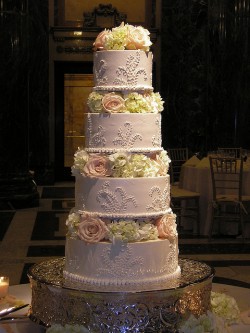 Pretty spectacular, eh?
I'm sure there is a prince or princess floating around this reception somewhere.  Or at least a socialite.
I love when white on white is done right.  The detail of the piping, which features a fern motif, is heavy enough to capture the lights and shadows, which really makes it stand out.  The flower garnish, made up of pale hydrangeas and pink roses, fills in the spaces perfectly, giving the cake a cohesive look.  This cake is kind of old fashioned, in that it's not stacked (and we predict a swing back Read More
0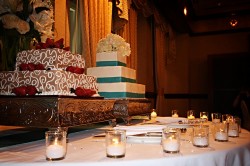 Are you a soon- to-be-bride?  Will your soon-to-be-groom have a groom's cake – and, if so, will it share the cake spotlight?
Let me explain.
We here at aWCB see lots and LOTS of groom's cakes, and they come in every shape and size – Read More