0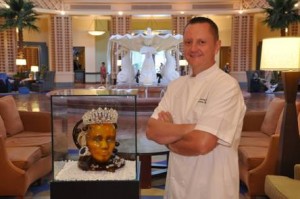 I know what you're thinking…two posts in one day?!  What!
Consider this my wedding gift from me…to you…no thank you note required.  Oh, who am I kidding?  I have Royal Wedding Fever.  I'd post 14 posts a day if Brooke would let me.  I indulge in her love of plaid..so maybe she would.
But I digress..again.  Because this got me all kinds of excited today.  Visualize the next few words I am about to type in your head and tell me how you feel afterward.
Diamonds
Sapphires
Sugar
Walt Disney World
Swan and Dolphin Resort.
Has your head started spinning?  Do you feel a bit weak in the knees?  Is the bottom about to fall out?  Because that's how I felt when I read that in honor of the Royal Wedding, award wining pastry chef Laurant Branlard, from the Swan and Dolphin Resort at Walt Disney World, has made a replica of the royal engagement ring made entirely from sugar. I said SUGAR, people. 
The piece took over 30 hours to complete and grab a fork because the whole thing is edible.  Not that they'll let you eat it though because it will be on display at the Dolphin until after Kate and Will have said "I do".
Oh how I wish I had a trip down to Disney planned for Friday because this is something I would love to see.  I'd also be pretty pumped to attend some of the festivities that the Swan and Dolphin have going on the morning of the 29th.  At 5 a.m.,  guests can watch the nuptials on large screen televisions in the lobby of the Dolphin.  They will also be treated to a complimentary English-style breakfast and wedding cake.  My thoughts are if this award winning pastry chef has anything to do with the wedding cake being served, I am really going to be envious as I sit in my living room..alone..eating an Eggo Waffle.
Read More:
dolphin hotel
,
kate middleton engagement ring
,
Laurent Branlard
,
royal jewels
,
royal jewels made from sugar
,
swan and dolphin hotel
,
swan hotel