4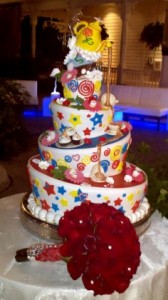 I'm late..I'm late..for a very important date!
You know what that means. I'm getting all Disney on you again. In the hub-bub of the Royal Wedding I forgot to showcase one of my favorite themed wedding cakes. This cake was made by the Grand Floridian Resort Bakery at Walt Disney World Resort in Florida. It was made for the All Night Royal Sleepover Celebration held at Disney's Wedding Pavilion the night before the Royal Wedding. I would have loved to have been there myself!
This cake is gorgeous and the intricate design is nothing short of Disney magic. This lopsided (because let's face it…would the Mad Hatter have it any other way?) four tiered cake featured a tea-pot topper and teacups and treats garnishing the entire cake. It's fun and full of great colors! The lucky guests of the Royal Sleepover got to enjoy this treat! I wonder how it was.
Read More:
brightly colored wedding cakes
,
disney's fairytale weddings
,
disney's wedding pavillion
,
Lopsided wedding cakes
,
mad hatter cake
,
mad hatter wedding cake
,
royal wedding
,
royal wedding sleepover