1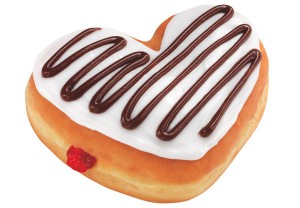 So yesterday I introduced you to the Royal Wedding Ice Cream Cake from Baskin Robbins.  Well, if you aren't an ice cream and cake kind of person, here is another option for you:  the Royal Wedding Doughnut.  Oh yes.
Perhaps this could be your Royal Wedding Breakfast, as many Dunkin' Donuts will open at 5 a.m. on April 29th.  Why oh why do we not have a Dunkin' Donuts in my town?  Could a wedding snack road trip be in order?  Me thinks yes.
Anyway, this doughnut is heart shaped and filled with jelly.  Then it is topped with vanilla icing and given a final drizzle with chocolate sauce.  Oh my.  However, you need to get yours quickly.  These Royal Heart Shaped doughnuts will only be available from April 24th-April 29th.  The best part..you don't have to be on a royal budget to get one of these.  They retail for 89 cents.  Oh yes.
Read More:
dunkin' donuts
,
dunkin' donuts royal wedding
,
heart shaped donuts
,
heart shaped treats
,
jelly donuts
,
royal wedding