0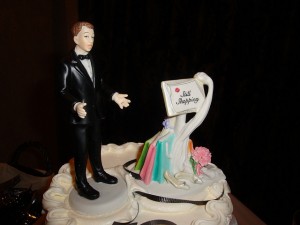 Oh my.  Brooke actually found this little beauty and shot it to me in an e-mail last week.
It's like she knew we were meant to be together.
I kind of have this problem…like a lot of women…I just love to shop.  If I am having a crappy day I head to a store.  Very rarely is it ever some sort of expensive treat for myself.  Usually it's something not very luxurious like toilet paper or dish detergent…but…just the sound of the cash register beeping makes my heart flitter.  Online shopping?  The worst invention.  Ever.
I once bought a shirt on my phone while waiting in line for the restroom.  That's a problem.
Sometimes I will sit there and just fill up random shopping carts.  That's the best.  Except when I impulse and press purchase.  Whoops.  That's why I ADORE this cake topper.  The bewildered groom showed up (she didn't have to drag him much like my least favorite topper) only to find his little lady is still hitting the shops.
Read More:
funny wedding cake toppers
,
humorus cake toppers.
,
shopping cake topper
,
still shopping cake topper