2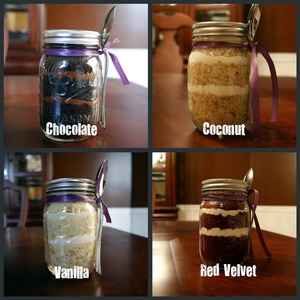 Oh yes..I have shown you cupcakes. I have shown you cake pops. I have shown you cake push-pops..and now I bring you cake jars.
Yes…yes. These delicious treats are made by Pickle's Bake Shop out of the Washington D.C. area. Have no fear if you aren't in the DC area because she has an online bakeshop right here. These little cakes come in a cute little glass jar with an adorable little spoon. They come in a variety of flavors..Red Velvet with Cream Cheese Icing, Chocolate with Chocolate/Vanilla/Marshmallow Butter Cream, Vanilla Bean with Vanilla/Chocolate Butter Cream, Lemon with Lemon Cream Cheese Butter Cream and Coconut with Cream Cheese Butter Cream. Yum, now don't those sound amazing? These could be offered as an alternative to that traditional wedding cake. Or they would make great wedding party gifts or wedding favors. I can just imagine matching a coordinating ribbon and a sticker on the lid commemorating the day. It's an adorable gift your guest would love. Besides do you want to know a HUGE secret? I know that after I chow down on all that yummy wedding food…sometimes…I have no room for cake. I know. How handy would it be to take home your own piece of cake and save it for later?
Visit Pickle's Bakeshop & thank her for letting us use her image! Psst..check out the cake balls…zomg!
Read More:
cake jar wedding cake
,
cake jars
,
cake pops
,
cupcake wedding cakes
,
edible wedding favors
,
pickle's bakeshop
,
wedding favors