0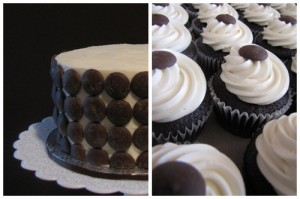 Check out these adorable Chocolate Button Cupcakes with matching six inch cutting cake.
Ah-dor-ah-bull.
These chocolate cupcakes are frosted with Vanilla Buttercream and topped with a sweet chocolate button. The cutting cake is a six inch chocolate mud cake that is frosted with Vanilla Buttercream frosting and decorated with matching chocolate buttons. These cupcakes and the matching cutting cake are made by Clever Cupcakes out of Montreal, and feature a clean, almost modern-art feel.
So – here is my question for you today. If you have cupcakes, how necessary is the cutting cake to you? Do you skip the tradition and just dive into a cupcake or do you need that cutting cake in order to keep things traditional? Me? I'd want the cutting cake.
Read More:
chocolate cupcakes
,
chocolate wedding cupcakes
,
Clever Cupcakes
,
cutting cake
,
graphic art cakes
,
modern design cupcakes