0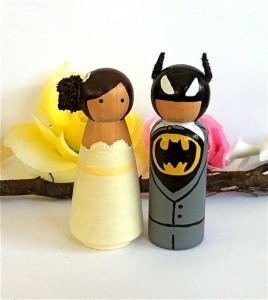 Nah, nah, nah, nah, nah, nah, nah, nah, BATMAN…on a wedding cake. And I do not think the bride is Robin. Just sayin'.
Every once and awhile I come across a cake topper that literally makes me squeal with delight. That happened when I saw this Custom Batman Wedding Cake Topper made by Charlene of Creative ButterflyXOX. You can visit her Etsy store by clicking on her shop name. She has a few other non-Batman cake toppers, but let's get real here, after seeing this one WHY WOULD YOU NEED ANYTHING ELSE?
Yes, I have started yelling at you.
So okay, perhaps Batman is not your thing. You can choose from Captain America or Superman…you can even get Wonder Woman.
I'm done. I can't type anymore because I've fainted.
I kid. The best part is that you can completely customize your set. You can tell Charlene the style of the dress, hair color, eye color, are you wearing a veil, is you hair up or down…and many, many other options – and magically it will appear on your topper. All for about $50.00. That's amazing. Do you get that I think that this cake topper is the bees' knees? In fact, I am sort of sad I am already married.
If you'd like to make an order, hit up her Etsy store..but these bad boys are in high demand..she is currently booked through the summer.  So if you have a fall or winter wedding planned, jump on it!
And just a note –  I know it's Thursday and Cake Topper Friday is usually when I post Cake Toppers but I have two words for you:  Harry…Potter.
Read More:
batman cake toppers
,
batman wedding cake toppers
,
captain american wedding cake toppers
,
custom wedding cake toppers
,
superhero cake toppers
,
superman wedding cake toppers
,
wonder woman wedding cake toppers
,
wooden peg wedding cake toppers