0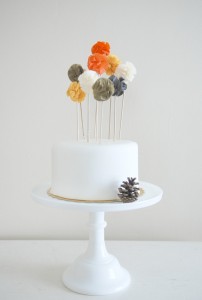 **I know I usually do Cake Topper Friday..but these Cake Poms kind of rock my face so hard that they had to be shown on a Thursday**
Cake Poms make me happy.  For real.
In particular these Cake Poms make me happy.  Perhaps this is from my days as a cheerleader and anything "pom" related makes me want to shake what my momma gave me to old school jams like Achy Break Heart and Down With O.P.P. Highly inappropriate for elementary school girls by the way.  These poms aren't Bulldog Green and White…but they could be if you wanted.  Made by Potter and Butler out of Portland, Oregon, these poms are handmade in your choice of color.  The poms measure two inches and are secured on skewers that go directly into the top of your cake.  I adore the Fall 2011 color collection and I am really trying to think what baked good I could put these poms into.
The poms are gorgeous in the plain white fondant cake that they are shown in but I imagine they would look awesome on any white or cream colored cake.  Potter and Butler even has a smaller version for cupcakes.  Seriously, look at them here. They are so stinkin' adorable.
Visit Potter and Butler on Etsy here and view the listing for these pom's here.
Read More:
cake pom wedding toppers
,
cake poms
,
cake poms topper
,
cake toppers
,
handmade wedding cake toppers
,
potter and butler
,
unique cake toppers