0
Posted on May 25, 2012 by Brooke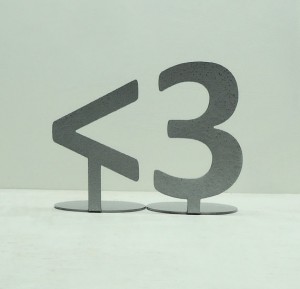 I <3 people all day long.  In emails, on Facebook posts…it's become my shorthand of choice.
And it's so ridiculous, really.  I mean, when did we all embrace our inner happy face junkies?  I

and LOL and <3 with the best of 'em.  I guess it's because some days, I really do interact more with people online than in real life.  (Note to Self:  GET OUT MORE.)
But, until this happens, we have this adorable Heart Emoticon Cake Topper to represent our Matrix-y version of emotions.
Seriously, with love and devotion shorthanded to a wedge thingy and a three, do you think the first Facebook wedding is far behind?
I kid.  Really.  I truly <3 this very cool cake topper.  And if you and your Lovey Dovey think it's the bees' knees too, check out the Metal Geek's Etsy Shop, and order it for your special day.
Do you love tekkie wedding touches?  Leave a comment below! 😉
Other Posts You May Enjoy:
Read More:
custom wedding cake toppers
,
etsy wedding cake toppers
,
geek wedding cake toppers
,
metal wedding cake toppers
,
tech wedding cake toppers
Recent Posts