2
I have a secret to admit.  As much as I honor tradition in a wedding I did not save the top tier of my wedding cake.  If you had a camera in my honeymoon suite you would have seen my brand new husband and I chowing down on our top tier in full wedding gear about ten seconds after we finished jumping up and down on the bed.
Most brides can handle their sweet tooth and post-reception hunger pangs better than I can and they wait until their first anniversary.  Then they eat the top tier of their wedding cake that has been happily freezing in their freezer since their wedding day.  Apparently we have been doing this for centuries.  Why?
Well I'll tell you.  Trust me, the answer isn't as romantic as one might think.  Apparently back in the old days (we're talking 19th century) people used to save the top tier of the wedding cake for the first anniversary or the christening of their first child or which ever one came first.  Cakes back then were made of dense fruit and other ingredients that preserved a bit better than today's deliciousness, so freezing them for the next event didn't compromise the taste.  Basically, this was a money saving tactic so that couples wouldn't spend money on a fancy cake twice in one calendar year.  Let's get back to the which ever came firstbusiness.  Typically a child would be born within months of the wedding, therefore the couple could use the top tier of their cake at the christening ceremony; therefore, it didn't need to last an entire year.  As wedding cakes have become more and more elaborate and yummy goodness like buttercream and fondant have taken over the wedding cake scene,  the christening cakes have become less popular.  In fact, I am going over it in my head and I don't even think we HAD cake at my son's christening.  There is just another reason I am probably harming my child psychologically.  Also, since many couples wait more than  a year to have a child that which ever comes first factor comes into play.  Nowadays, people tend to wait more than one year to begin their families.  All of this means the couples that choose to freeze their wedding cakes are eating it on their first anniversary.
This may seem like I am down on wedding cake freezing–but trust me, I am not.  I think it is incredibly romantic to go back and reflect on your wedding day.  Since we ate our memento on our honeymoon night, my husband went and bought a case of wine that we drank at our wedding and we open one bottle every year.  Romance is not lost on me, friends.  Also, it is sort of the gift that keeps on giving because every time you open your freezer you'll be able to see your cake and be reminded of that sweet day.
Let's be honest though: if Nick Lachey and Jessica Simpson(on their reality show Newlyweds) taught us anything it's that sometimes eating year-old cake doesn't taste that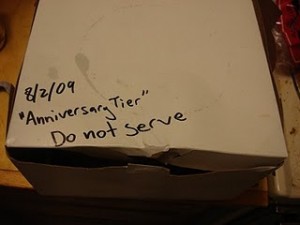 good.  That's probably all they taught us.  So what is the best way to preserve your cake?  I did some research and discovered there are lots of different answers and everything thinks that they are right.  Since I don't have a spare top tier OR a year to spare in the name of research here is what I have come up with for saving your wedding cake.
Buy an airtight plastic container that will be large enough to save your top tier.  Some couples cut their cake but that is up to you.
Some people suggest placing your cake in a bag that can be vacuumed sealed to keep all the air out.  Others simply wrap it in plastic wrap.  If you have access to a food vacuum I think I would go that route–it can't hurt right?
After you vacuum seal it or wrap it in plastic wrap cover it in foil.
Place the cake in the airtight container.  I also saw that some people skip steps 2 & 3 and just pop the cake right in the container.
Wrap plastic wrap around the airtight container.
Wrap the container in foil.
Freeze until the day before your anniversary.  Bring it out to thaw for at least 24 hours.  Although some bigger cakes may take longer.
Eat it up–and shoot me an e-mail to let me know how it tastes!
So now you know why we save our top tier and how to do it.  You might be saying…Christen…I just don't WANT to save my cake.  My friends, you do not have to because I have some cute alternatives to frozen fondant.  The bakery we ordered our wedding cake from also makes smaller cakes.  We don't do this every year but for the big anniversaries (like the first and our fifth which will be this October) we order a small cake and eat it when we get home from whatever fabulous restaurant my husband has taken me to…usually it's Outback.   Or, if your baker isn't nearby or they don't offer small cakes as an option, you can always visit a cupcake bakery and order a half a dozen in the flavor of your wedding cake.
Some may think freezing your cake and eating it on your first anniversary is deeply intertwined with the tradition of marriage while others may think it is outdated and a waste of money and cake.  Either way the choice is up to you…so what would you choose?  Save it and eat it later?  Or skip it and replace it on your anniversaries with freshly baked cake?  Or, be like me and eat it at midnight on your honeymoon?
Top Tier Box Photo Source:  You can read about this couple eating their top tier one year later.
Read More:
history of saving the top tier of your wedding cake
,
how to save the top tier of your wedding cake
,
saving the top tier of your wedding cake
,
why should you save the top tier of your wedding cake