0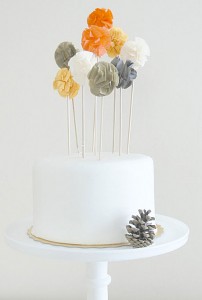 There is something to be said for a lovely one-tier wedding cake.
While I'm a fan of big wedding cake with many tiers and embellishments, I also think there's no reason to go overboard on cake if you're planning a small, intimate wedding reception.
If that's the kind of reception you're planning then you'll want the cake to match the small setting. And that's when you go for the single tier wedding cake.
But small wedding cakes don't have to be boring – in fact they should definitely stand out and make a statement.
Like this beautiful one-tier cake topped with colorful pom poms.
It's pretty. And simple. And perfect for a small reception.The silver pine cone is a pretty touch and gives the cake a nice fall feel. And of course you could personalize the pom poms with your wedding colors.
We found this cake here.
Read More:
fun cake toppers
,
one tier wedding cakes
,
small wedding cakes
,
white wedding cakes