1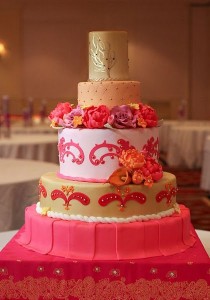 There are cakes.  And then there are cakes.
The first time I saw this cake, I immediately became a convert to all things bright and colorful.
Jasmine Clouser of The Couture Cakery is truly an artist.  Her cakes are detailed beyond belief and perfectly capture the mood of the moment.  In this case, the bride and groom were married in a traditional Indian wedding ceremony at the Hershey Lodge in Hershey, Pennsylvania.  The room where the ceremony was held was transformed into the reception spot as well.
After the ceremony, the bride, Meera, changed from her traditional wedding dress into a beautiful fuchsia saari, which served as inspiration for the couple's wedding cake!  Jasmine incorporated both colors and design features of the outfit into the cake, and used a wealth of techniques to achieve her breathtaking effect.  The flowers, which included peonies and roses, were created by Jasmine just for this cake.  She also used stenciling on the top layer, quilting on the second layer, and a number of cutouts and pleats on the rest of the cake.  She also gold-dusted some of the layers.  Pay particular attention to how the bottom layer flows right onto the fabric-covered cakestand, mimicking a dress.  Incredible detail.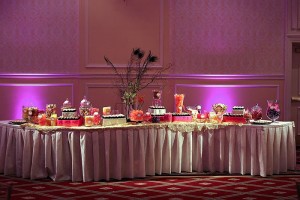 And lest you think this cake was all about looks, well, you'd be wrong.  The moist cake beneath the pretty fondant included a chocolate cake with a mocha buttercream; a vanilla layer with raspberry buttercream; and a red velvet cake with vanilla buttercream.  From the sounds of it, this cake was pretty – and delicious! – all the way through.
And if the awe-inspiring cake weren't enough, Jasmine also created a sweets table that incorporated the couple's bright, cheerful colors.  Eighteen feet of candy and miniature cupcakes, tying in the colors of fuchsia, gold, pink, and orange.  Jasmine used the same saari fabric on the sweets table that she used for the cakestand, tying the two areas together perfectly.
Stop by Jasmine's blog to see more of her lovely work.  The photos that we have featured here were taken by Thomas Beaman Photography.
Read More:
colorful wedding cake
,
hershey lodge
,
hershey pa
,
indian wedding
,
saari
,
saari wedding cake
,
The Couture Cakery
,
thomas beaman photography
,
traditional indian wedding