1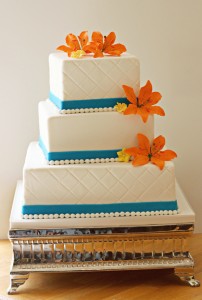 Once again, The Couture Cakery has captivated me with color.
Jasmine Clouser does everything fantastically – from sweets tables to cakes.  And she can create a demure cake with the best of them.  However, so many of her cakes that I have fallen in love with have used such breathtaking color that I simply could not pass them up.  This is a great example.
I love orange anyway, but to have it paired so beautifully here with bright blue is a real plus.  Really, this is just SUCH a beautiful color combination for spring and summer.  And Jasmine's meticulous handmade flowers could fool the smartest honeybee.  The alternating layers covered with quilted fondant, and trimmed with a pearl border are just stunning.  Beneath the fondant were layers of white cake and strawberry buttercream, as well as spice cake with vanilla buttercream.  Beautiful and delicious!  What else could you ask for…besides maybe a fork?
See other Couture Cakery features on A Wedding Cake Blog, like this Stunning Sari Inspired Wedding Cake, and this Zebra Stripes and Tiffany Blue Sweets Table.
Read More:
blue and orange wedding cakes
,
bright blue wedding cakes
,
lily wedding cakes
,
orange wedding cakes
,
white wedding cakes