0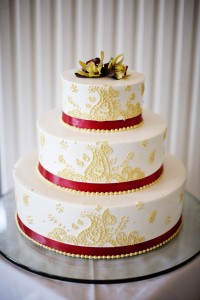 We love a little pop of color in a wedding, and this one was just incredible.
Jenny and Aashish sought to bring together her Midwestern background with his Indian heritage, and the result was one of the most stunning weddings I've ever seen.  Of course, I'm a sucker for cranberry red, so that might be part of it…I would TOTALLY wear that bridesmaid,s dress again.
But of course, the cake is the star of OUR show.  And the cranberry red shows up here, too.  Three simple layers, decorated with a mehndi-inspired paisley motif in gold, trimmed with cranberry red ribbon, and topped with a few orchids.  Simple, elegant, and the perfect hybrid of solid Midwestern meets exotic Indian.
For more beautiful pictures of this wedding, visit Project Wedding's website.  (Really.  You must.  For the dresses alone.)  The cake was made by the very talented team at D'Amico and Sons. The whole event was perfectly captured by Photogen, Inc.
Read More:
brightly colored wedding cakes
,
colorful wedding cakes
,
cranberry red wedding cakes
,
diverse weddings
,
east meets west weddings
,
Indian inspired wedding cakes
,
mehndi-inspired wedding cakes
,
minneapolis wedding cakes
,
minnesota wedding cakes
,
mixed faith weddings
,
red wedding cakes
,
white wedding cakes