The Couture Cakery
1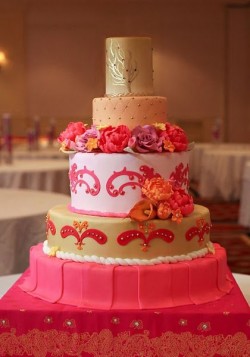 There are cakes.  And then there are cakes.
The first time I saw this cake, I immediately became a convert to all things bright and colorful.
Jasmine Clouser of The Couture Cakery is truly an artist.  Her cakes are detailed beyond belief and perfectly capture the mood of the moment.  In this case, the bride and groom were married in a traditional Indian wedding ceremony at the Hershey Lodge in Hershey, Pennsylvania.  The room where the ceremony was held was transformed into the reception spot as well.
After the ceremony, the bride, Meera, changed Read More
2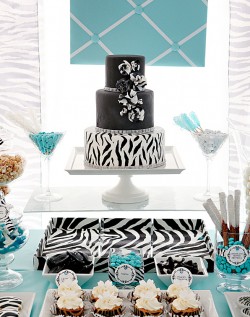 You know, "bold" is very difficult to pull off, because if you aren't careful…if you're too heavy-handed…"bold" can easily become…well… gauche.
Not so with this stunning zebra-striped cake, courtesy of The Couture Cakery in Camp Hill, Pennsylvania.  Jasmine, Couture's owner and cake artist, created the confection as a centerpiece for a sweets table, and brought in the Tiffany Blue as an accent color.
The cake is covered in fondant, and is trimmed Read More