0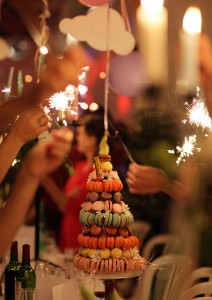 Last month when I talked to you about wedding cake alternatives I mentioned a Macaroon Tower.  I never..ever imagine anything as gorgeous as this.  Sure, sure the lighting combined with the sparklers and an obvious genius behind the lens made this macaroon tower seem extra magical..but I am totally considering a Macaroon Tower at my next event.  And I don't even think I like macaroons.
It's a sweet tower of yummy cookies in colors of pink, yellow, orange, brown, green and purple that make this tower simply amazing.  Quick, name another time and place when those colors would look good together other than a crayon box.  Can't do it..can you?  Don't worry neither could I.  It's also adorned with adorable white daisies that make it oh so sweet!  So if you aren't into wedding cakes–go ahead and get your macaroon on.
I found this photo here..but I have no idea if that's the photographers website or what..because I don't read French.
Read More:
colored macaroons
,
macaroon tower wedding cakes
,
macaroon towers
,
macaroons
,
wedding cake alternatives