1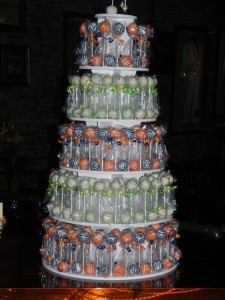 You know me.  You know that there is nothing I love more than 300 cake pops just waiting to be eaten.  I could only love it more if I was lucky enough to be one of the people who got to eat one of these cake pops.  Sadly…I was not.
This cake pop tower was (I am pretty sure) the highlight of a fall wedding in Nashville this year.  The bride and groom chose a navy and orange color scheme for their wedding.  Remind me later to talk about my love for all things navy as of late.  I feel a "Navy Cakes" post coming…hmm.  Anyway, the cake pop flavors are what really intrigue me.  There are four kinds of cake pops:  Death by Chocolate with Chocolate Fudge icing, Vanilla Dream Cake with Vanilla Buttercream, Strawberry Cake with Strawberry Icing and Brown Sugar Cake with Brown Butter Icing.  Other than the overall cuteness that's the best part of Cake Pops.  You can make them in a variety of flavors and your guests don't have to look like gigantic fatties if they want to try more than one flavor.  Okay, four cake pops probably would make one look like a gigantic fatty but whatever.  That Brown Sugar Cake with Brown Butter Icing?  Sign me up please!
Of course the topper "pops" are simply adorable.  They are a bride and groom pop…the groom is wearing a tux with an orange bowtie and the bride is covered in glitery sanding sugar.  Glittery sugar?  I need this…by the pound…in various colors, please.
This gorgeous cakepop tower was made by Party Pops by Julie.  Click on her name to be taken to her website and see some seriously cute pops!  I feel like this isn't the last time we'll feature her here on A Wedding Cake Blog.
Read More:
alternative wedding cakes
,
bride and groom cake pops
,
cake pop wedding cakes
,
cake pops
,
glitter cake pops
,
nashville cake pops
,
nashville wedding cake pops
,
nashville weddings
,
navy blue cake pops
,
navy wedding cakes
,
orange and blue wedding cakes
,
orange and blue wedding colors
,
orange cake pops
,
orange wedding cakes
,
party pops by julie
,
portion control wedding cakes
,
sanding sugar
,
wedding cake pops