0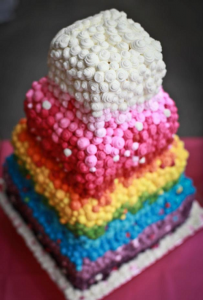 I saw a news report this week about a rare quadruple rainbow that was spotted over New York State. As a big fan of rainbows I thought that would be pretty cool to see.
And then I found this rainbow dot wedding cake and my week was made!
I love this wedding cake so very much. It's fun and whimsical and pretty much screams "spring!" in a refined way, of course.
The rainbow on the cake is formed by "dots" of icing – starting with white at the top and going through all the colors of the rainbow including pink, red, orange, yellow, green, blue, and purple.
You're guaranteed an awesome wedding reception with this cake!
We found this cake here. It was created by Swirls Bakery.
Read More:
colorful wedding cakes
,
fun wedding cakes
,
rainbow wedding cake
,
spring wedding cake
,
whimsical wedding cake