2
Posted on September 10, 2011 by Brooke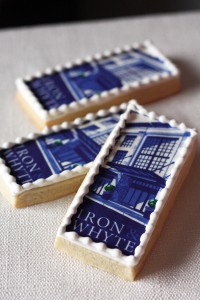 From children's birthday parties to weddings, we seem to be sending guests and friends home these days with a little something extra to help them remember the magic of the celebration.  And why not?  Your guests have spent their money and time to help you celebrate your special occasion.  A little gift is the perfect way to say "thank you."  And I am of the mind that a useful gift, or a gift that can be enjoyed and consumed in some way, rather than just something that sits around and collects dust – that's the best option in a world that's already full of stuff.
Enter Harmony Cakes' beautiful cookies.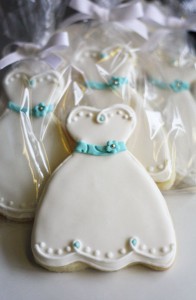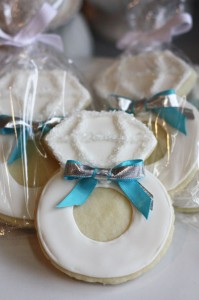 We first met Jennifer from Harmony when I featured her Starbucks Cake (still one of my very favorites of all time.)  But Jennifer also makes these beautiful little cookies as favors for special occasions, including bridal showers and weddings.  I love the detail.  My favorite is the blue "tile" cookie.  Actually made for a business anniversary celebration, I think these beautiful cookies would be absolutely perfect for a wedding, perhaps with the couple's monogram.
What do you think of sending your guests home with a little extra something sweet?  What's the best wedding favor you ever got?
Other Posts You May Enjoy:
Read More:
cookies
,
cookies as gifts
,
decorated cookies
,
Harmony Cakes
,
jennifer fedje
,
wedding cookies
,
wedding favors
,
wedding gifts
Recent Posts