0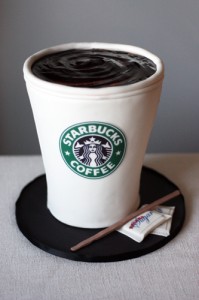 Raise your hand out there if you can make any sense whatsoever in the morning without first ingesting coffee.
Well, aren't you the lucky ones.
For the rest of us, who balk, nay, cry at the thought of not starting our morning with a cup of coffee, I give you the ultimate coffee tribute.  The Coffee Cake. 
The Starbucks Coffee Cake.
So, disclaimer:  Starbucks isn't paying me a single cent to tell you that their coffee courses through my veins!  And so, when I saw this incredible cake by Jennifer Fedje of Harmony Cakes in Port Coquitlam, British Columbia, I nearly called and ordered one, tout suite, for myself.  Which is not to say for my groom, ah, husband.
But can you think of a better groom's cake for the serious coffee or Starbucks lover?  The cake is actually two tiers, sculpted into the shape of a coffee cup.  When I asked about the cake, which was actually made for a retirement party, Jennifer told me that the cake layers are chocolate, filled with chocolate ganache and raspberry preserves. Yeah.  I'm gonna let that sink in for a minute.
So, my next question is, will Jennifer be shipping one of these babies to me for my next birthday?  Because airfare to Canada might be pricey.  But a girl's gotta do what a girl's gotta do.
Read More:
chocolate
,
chocolate ganache
,
chocolate grooms cakes
,
grooms cakes
,
Harmony Cakes
,
Port Coquitlam British Columbia
,
rapsperry preserves filling
,
sculpted cakes
,
starbucks
,
starbucks cakes
,
starbucks coffee
,
starbucks coffee cakes