0
Posted on October 5, 2011 by Christen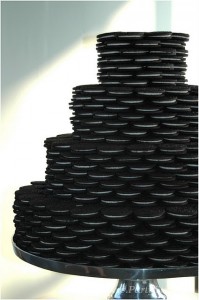 I saw this on Pinterest a few months ago and I pinned it but never thought of it again.  In fact I had convinced myself that I already blogged about this just cake and just spent about 15 minutes looking through the archives just to check.  I didn't and I kind of shocked myself.
An Oreo cake.  Seriously…where is the milk?  Because I am ready to twist and dunk thank you very much.
Surely the creator of this amazing creation must be touched by an angel.  That is true if you consider that the creator of this cake is Kevin Sharkey…who, by the way, happens to be the Creative Designer for the Martha Stewart Company.  So he was touched by an angel with a glue gun.
What do you think of the Oreo cake?  Are you coming to my devouring party?  Bring your own milk.
I found this photo here on Pamela Smerker's blog.  Love it!
Other Posts You May Enjoy:
Read More:
cookie cakes
,
kevin sharkey
,
kevin sharkey cakes
,
martha stweart weddings
,
oreo cake
,
oreo wedding cake
,
oreo wedding cakes
Recent Posts